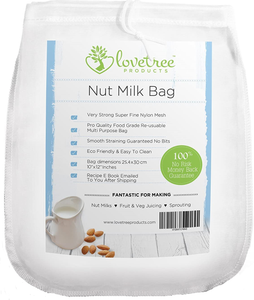 Benefits:
Perfect for making raw drinks when manual juicing
Organic Almond milk
Soy milk
Cashew nut milk
Coconut milk
Rice milk
Vegetable juices
Hemp milk
Flax milk

Description:
The strongest nut milk bag available, designed to let you create delicious smooth creamy almond milk with only one filtering. The premium ultra-fine monofilament mesh gives you great results every time, it is the perfect size for creating amazing nut milk and juices, smooth jams, herbal infusions, and much more.
PULP FREE: Zero bits guaranteed, Has Super 200 Micron Mono filament prime mesh strainer gives you silky smooth drinks.

REUSABLE & VERY DURABLE: Designed to last this bag won't let you down, a great tool for your healthy organic living, vegan or vegetarian lifestyle and currently on sale.
How To Use:
To make your own nut milk.
Ingredients:
Nut milk bags are made of cheesecloth like materials sewn into a pouch shape with a drawstring closure. Nut milk is made from nuts soaked in water, which are then blended in a blender. The mixture is poured into the nut milk bag and then gently squeezed over a container to collect the milk.
* Disclaimer
We always recommend you consult your wellness or health care practitioner before adding any diet changes or supplements to your daily wellness routine and practise.