Suicide Prevention Month; Prevention Matters.
Each year, Mental health organizations around the globe refer to the month of September as Suicide Prevention Awareness Month. However, individually, deepening our own understanding and extending our support to those at risk, in order to prevent suicide is something that we may need to do at any point in our lives.
Nowadays, talking about suicide should not be a taboo topic wrapped in outdated cultural misperceptions. Suicide is a complex human emotional response to life circumstances accompanied by strong psychological pain. Addressing our own or someone else's emotional distress is an important and effective method to lower the frequency and intensity of thoughts and feelings of suicide.
Statistics show that each year over 48,000 people die of suicide across EU countries. Suicide can affect individuals of all ages and groups but also affects greatly their family members and friends, who are often left experiencing a mix of emotions, such as guilt, shock, grief, depression etc. The groups showing the highest suicide risk fall under these categories:
Teens and Young Adults who are inclined to taking impulsive and risky behaviours (e.g. drugs and alcohol abuse) may find it difficult to regulate difficult emotions associated with major life changes;


Adults over 45 who may have undiagnosed psychiatric or psychological conditions (e.g. depression, personality disorder etc.) which can be worsened by major life stressors, such as divorce, losing a spouse, loneliness, ill health, trauma etc;


Previous Suicide Attempts are strongly associated with future re-attempting, especially if one is at a young age, uses alcohol and/or is diagnosed with a personality disorder;


Sexual Minority Youth (LGBT)

is a group that shows higher suicidal ideation and behaviour compared to their non-sexual minority peers.
If these warning signs apply to you or someone you know, ask for help immediately, especially if the behaviour is new or has increased: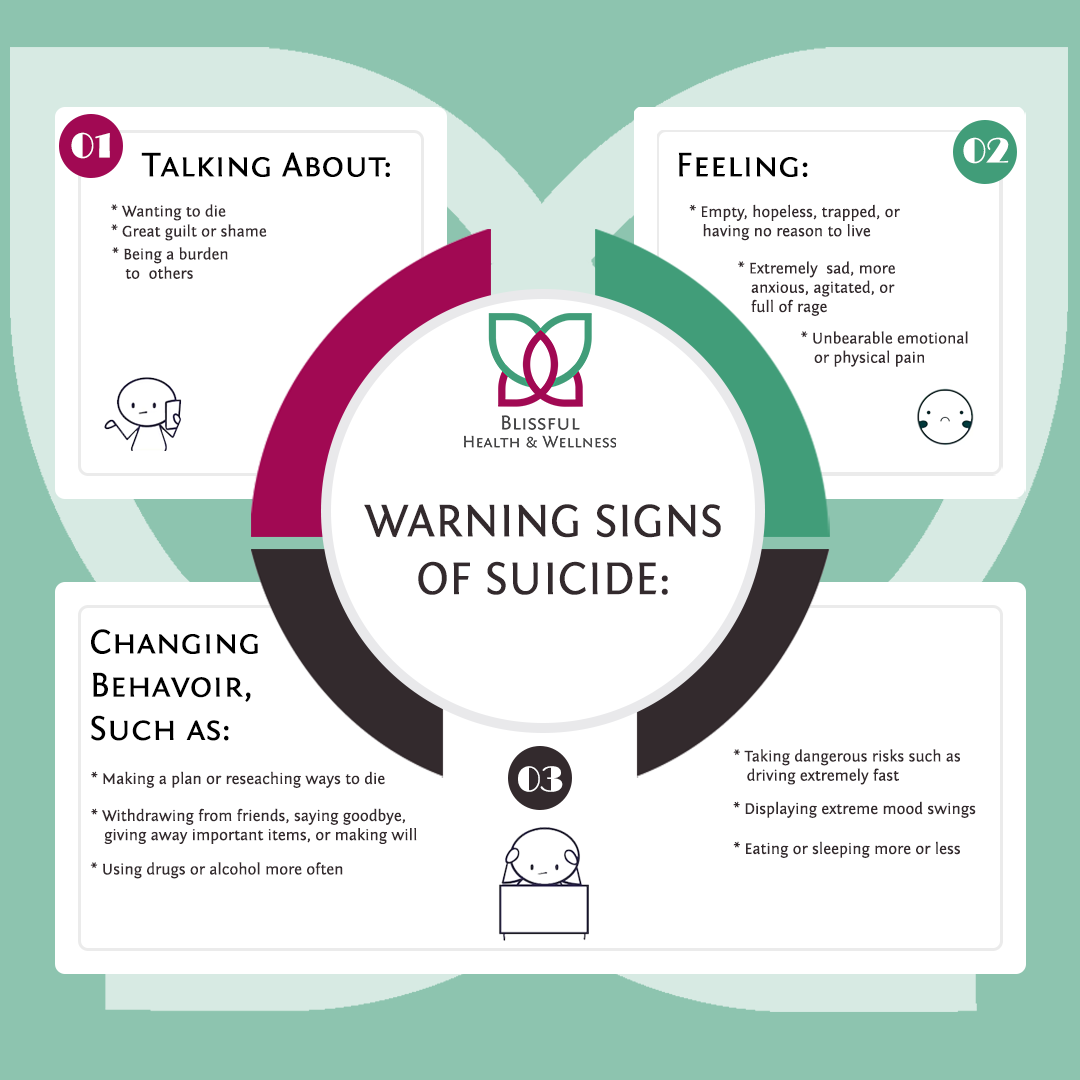 (Adapted from an Infographic by the National Institute of Mental Health, US)
Professionals, like counsellors, psychotherapists, psychologists and medical personnel can help answer any questions one may have about the way to support you or someone at risk.
5 Action Steps for helping someone in emotional pain in order to prevent suicide: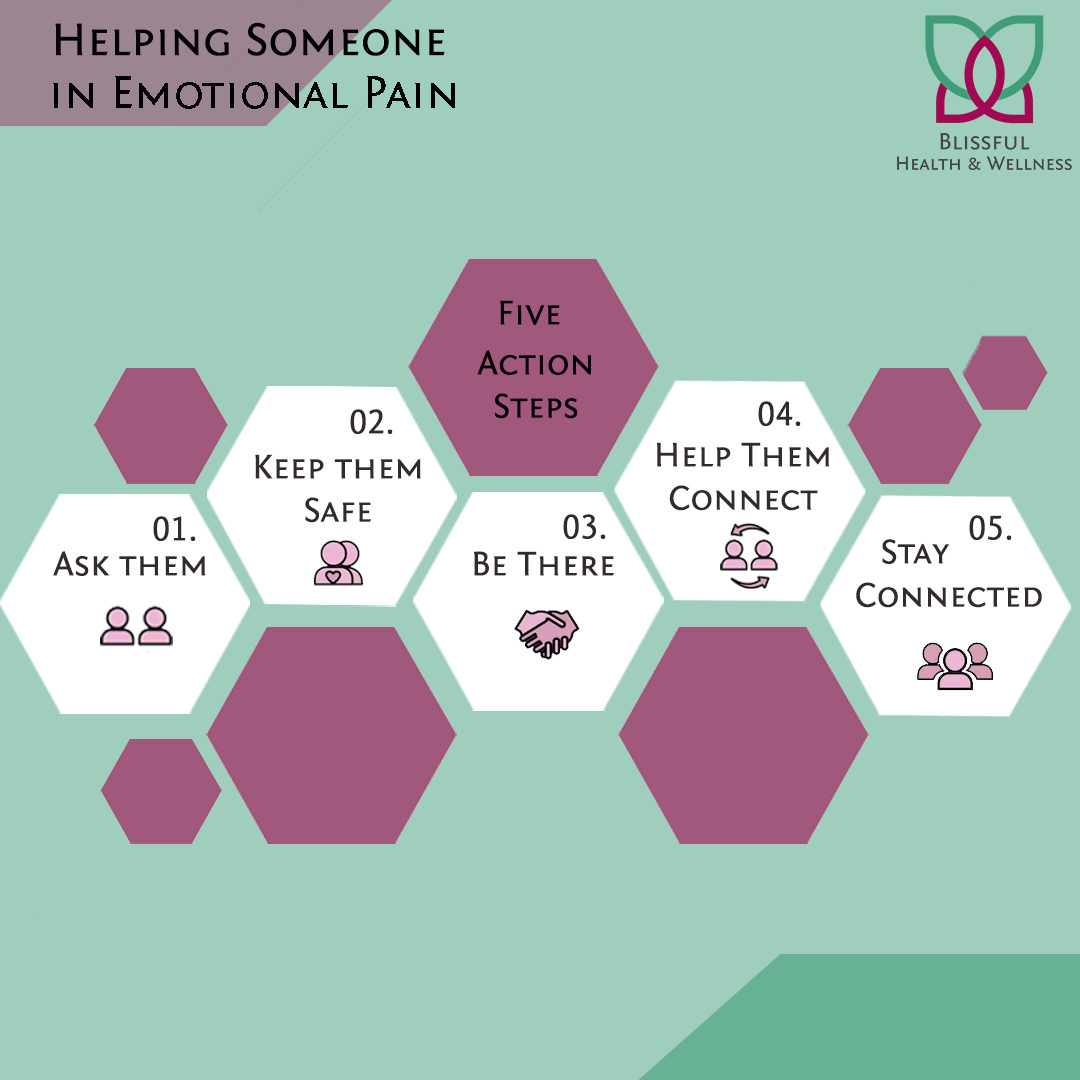 (Adapted from an Infographic by the National Institute of Mental Health, US)

ASK

sensitive questions, if in doubt don't shy away from asking "Are you thinking about killing yourself?" From studies, we know that asking does not increase the rate of suicide or suicide-related thoughts. In contrast, it opens a subject that may save their life.



KEEP THEM SAFE

by removing their access to deadly items (e.g. knives, medication, ropes). It may not be an easy thing to ask but it is important to check if the person at risk may have a plan in mind. This can help guide you in removing their access to such means.



BE THERE

by listening and responding empathically to their feelings and thoughts. Being there empathically is shown to reduce rather than increase risk.



HELP THEM CONNECT

by giving them a number to a direct Suicide & Crisis phone line. Encourage them to use it and/or to connect with a trusted family member, medical or mental health professional.



STAY CONNECTED

by remaining in touch after they have been discharged from crisis care. Feeling cared for can make a difference in helping them re-integrate and make needed lifestyle changes.
Without appropriate support, emotional health difficulties can have a devastating effect on one's life and significantly increase suicide risk. Suicide is preventable and everyone can make a difference by being there, listening and bringing hope!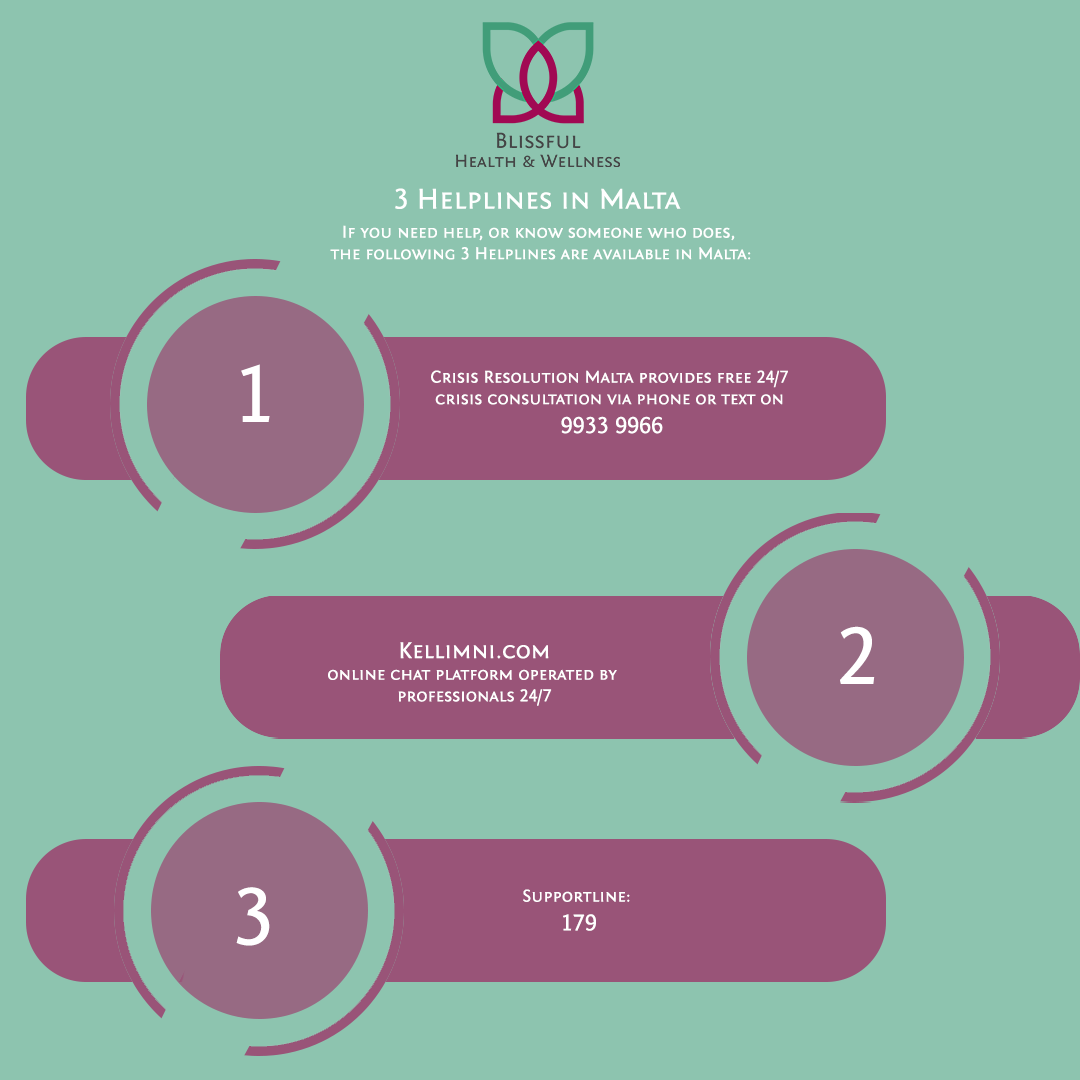 Dr. Ana Georgieva DPsych is a Chartered Counselling Psychologist, endorsed by the Health and Care Professions Council (HCPC), the official UK regulatory body ensuring public protection. With over 15 years of experience in social and mental health fields, Ana's journey began in Edinburgh, UK, before finding her base on the picturesque Maltese Islands. Her therapeutic approach revolves around respect, warmth, and deep client relationships.

Ana offers individual psychological therapy for adults and extends her support to clinical supervision for therapists and social care professionals. Her extensive training and diverse background equip her to address various psychological concerns, with a primary focus on treating Depression, Anxiety, and related disorders (phobias, social anxiety, panic, health anxiety, somatization, etc.). Additionally, Ana adeptly handles existential dilemmas, challenging adaptations to health or life conditions, relational dynamics, family issues, assertiveness, self-esteem, eating disorders, weight management, and more.
Drawing from modalities like Cognitive Behavioural Therapy (CBT) and Person-Centered Therapy (PCT), Ana integrates the wisdom of Mindfulness-Based Cognitive Therapy (MBCT), Existential, Positive Psychology, and Schema approaches. Her commitment to upholding the highest professional standards is evident through her affiliation with the UK HCPC and the British Psychological Society (BPS), which champion evidence-based psychological therapy.
Ana's intrigue in the interconnectedness of psychology and physiology led her to earn additional qualifications in anatomy, sports, and physical conditioning. She champions a holistic perspective, valuing the unity of both body and mind. Ana's guidance fosters wholesome thinking and behaviors that elevate well-being, health, and personal empowerment.
Professional Background
Ana's journey spans voluntary, public medical, and private social and mental health sectors. Her UK experience includes charitable organisations and the National Health Service (NHS). Presently, Ana is a senior associate with a reputable UK-based Online Psychological Therapy service. Her multicultural experiences from a life lived abroad infuse her practice with a deep appreciation for diverse cultural perspectives, welcoming clients from all backgrounds.
Experience profound transformation through psychological therapy with Dr. Ana Georgieva at Blissful Wellness Clinic.
Your well-being journey begins here.