Positive Thinking... And Not Only
If the life you live is not the one you desire, the things that you manifest are not the ones you want or the things in your life are not going well, I'm ondering... What are you thinking right now?
Personal life experience is strictly related to the thoughts of the person who lives that life. There is a cycle starting with the thought. Everything that follows is a consequence of it. The thought creates an emotion (the energy that puts things in motion). So emotion creates a behaviour that in the end creates a result in the personal life experience of each one of us. And then again; The result gives another thought which gives another emotion, another
behavior and another result. So, if the thought is negative, how is the emotion? Right. A negative one. Then the behaviour is limited and destructive, leading to an unwanted result.
But when you have a positive thought then I assume that your emotion is a positive one and the behaviour is certainly a constructive one which leads to a desired result. As a mater of fact the quality of your thoughts creates the quality of your life.
You might say "Ok but I have so many thoughts and I feel that I cannot stop them". It is not that you cannot stop them, you just repeat so many times those thoughts that now are an unconscious manifestation and you only feel that you are not in control. So nothing is wrong with you!
The present life experience of a person is only the natural result of his subjective experience. If you feel that you are not in control of your thoughts is because those have deep roots in your subconscious mind and are all formed through repetition.
There are different ways to start taking control of your thoughts;
You need to be aware of those thoughts. You cannot change something that you are not aware of. Daily introspection is recommended!
Accepting that you are not your thoughts, is something that you have to do.
Change your focus on things that make you feel good. "Where the attention goes the energy flows"
Spend time with loved ones, this will make your oxytocin hormone increase.
Eat healthy and assume natural plant-based supplements to sustain the body.
Do exercises that will improve your mood, sleep, endurance and stress relief.
As most of thoughts are unconscious manifestations as I said those have roots in the subconscious mind. For a rapid change in your thoughts, many people use hypnosis, as this natural tool to reach the subconscious mind and get that change fast.
Thinking positive is good but a thought without a feeling is only a thought.
Thinking and feeling is the key.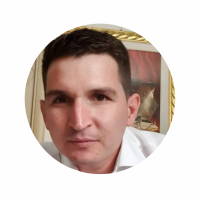 Dan Leicu is a mental coach, certified hypnotherapist and NLP practitioner. His work is to help people understand why things manifest in their life and trough hypnotherapy and NLP techniques help them to obtain the result they want.
Your well-being journey begins here.