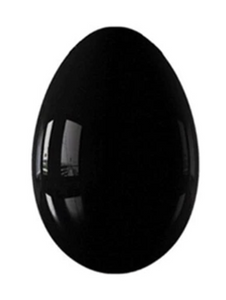 The Black Obsidian 'La Luna' Yoni Egg.
The Black Obsidian 'La Luna' Yoni Egg is a powerful tool for assisting the pelvic muscles while empowering the root chakra.
Obsidian is a volcanic glass which is hard, smooth, and nonporous. Black Obsidian cleanses the root chakra as it aids with grounding and connecting to the Earth.
This Yoni Egg is ideal for women who wish to appreciate the strength of their bodies and want assistance in remembering their purpose.
Emotional/Spiritual benefits: Black stones have protective energies and symbolize self-control, truth, and resilience. Obsidian is a very protective stone and is excellent for removing negativity.
In particular, obsidian protects the gentle from abuse and is used to cut attachment cords to release old patterns.
It is a very grounding stone, incredibly healing. Black Obsidian 'La Luna' is an extremely powerful and fast acting stone and should be used with respect in crystal healing. Obsidian is often described as the "Stone of Truth", it can sometimes bring negative emotions and unpleasant memories to the surface, to help work through and heal the emotional wounds. Some people find Obsidian's effects very strong and prefer to start with a gentler stone. It is said to form a shield against negativity and to absorb negative energies from the environment, because of this it should be cleansed regularly in running water.
Both Drilled and Undrilled options are available Chakra: Root Size: Small size 25x30mm Medium size is perfect for most women to start with.
If you know you need a larger egg to begin with and wish to also own an Obsidian Egg we suggest you purchase a complete set of 3 yoni eggs (Large Rose Quartz, Medium Nephrite Jade and Small Obsidian). This Yoni Egg comes with a signature gift box, carrying pouch and practice guide. Each stone is unique in appearance just like every one of us.
Our stones are all quality inspected before they're sent out. Yoni Egg practice is NOT recommended for women who are pregnant, have an Intrauterine Device (IUD), have an infection or a pre-existing health condition.
You can find more information in our FAQ Section that comes with your egg.