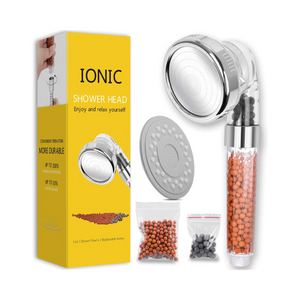 A powerful shower head with 3 settings Rainfall, Jetting, Massage

Helps lower water pressure and save water

It maintains water pressure, which helps in eliminating body and mind fatigue and will not affect the shower experience.

If one of your constant complaints about your existing shower head is a lack of water pressure, worry no more. Bring the water closer to you, and you can have a more refreshing shower
The filtration shower head is equipped with a mineral ball to remove chlorine and fluoride, toxins, heavy metals, rust and odor from the shower water, enhance water purification, and maintain the pH balance of the water. Provides smoother skin, reduces oil secretion and increases cell viability.
Connected in minutes without tools. All connections can be manually tightened. You can use it as a shower or hand shower for any standard hose
What you get: 1 x shower head, 2 x replaceable beads, 1 x extra spare rubber plate