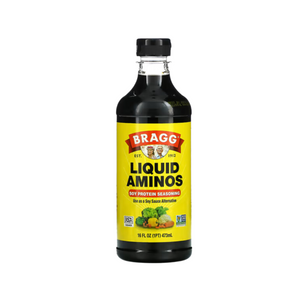 Bragg® Liquid Aminos is a healthy and versatile soy-based liquid seasoning. Made from non-GMO verified soybeans, it follows the original formula by health pioneer Paul C. Bragg. Here's why you'll love it:


Rich in Flavor, great to enhance your dishes with savory and umami notes, perfect for soups, stir-fries, marinades, and more.
It is a healthier choice that is gluten-free, low in sodium, and free from artificial additives, it offers a healthier alternative to traditional soy sauce.
It is nutrient-rich: Packed with 16 essential and non-essential amino acids, it supports overall wellness, making it ideal for vegetarian and vegan diets.

Experience the delicious taste and nutritional benefits of Bragg® Liquid Aminos in your cooking.