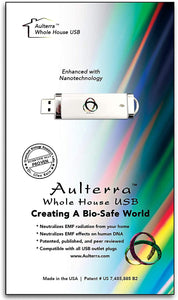 The Aulterra™ Home USB offers unparalleled protection against harmful 5G and EMF radiation
Easy to use USB neutralizer for all electronic devices in the home that emit harmful EMF radiation, phones, microwaves, routers, computers, baby monitors and more
Neutralizes the advertising effects emitted by electronic devices and becomes true and reliable EMF protection, eliminating 100% of the harmful effects
Restores the wiring in your home by emitting a subtle field of energy that interacts with the electrical current in the home wiring, changing it from a chaotic waveform to a coherent waveform.
Transforms the bio electrolytic patterns of man-made electromagnetic fields, of course, changes the human-made incoherent frequencies into harmless coherent frequencies.
Note: USB adapter is not included.