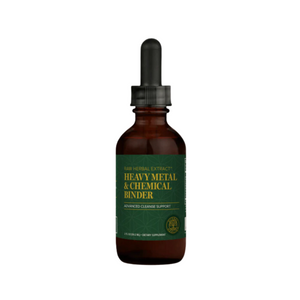 Benefits:
Supports detoxification
Keeps your body happy & healthy
Boosts brain health
Encourages clarity and mood
Supports a healthy lifestyle
Protects immune system
Revitalizes energy levels
Description:
Heavy metals and chemicals can wreak havoc on your body, health, and well-being. The worst part is that they're everywhere! You can find heavy metals and chemicals in foods, air pollution, and even household products. These chemicals can impact your health mentally and physically. We've seen people experience brain fog, fatigue, and a weakened thyroid from overexposure to heavy metals and chemicals. While you can minimize your exposure, total avoidance is impossible — cleansing is the only practical answer.
Global Healing's Heavy Metal & Chemical Binder formula - a powerful shield against the constant threats of heavy metals and chemicals to your health. This blend supports your body's natural ability to attract, bind, and cleanse these substances, reducing their harmful effects and protecting your well-being. But that's not all. With nine detoxifying ingredients, it goes beyond protection, rejuvenating energy, enhancing mental clarity, and promoting overall health. Crafted with our proprietary Raw Herbal Extract™ technology, this bioavailable liquid extract preserves the plant's essence without heat, alcohol, or harsh chemicals. Optimize your health with this potent formula.
If you have Amalgam fillings these are the most common source of exposure to mercury. If you have amalgam fillings, find a natural dentist who can replace them with mercury-free alternatives. 

How To Use:
Shake bottle well. Take 1 ml, hold in mouth for 15 seconds, then swallow. 
Use twice daily or as recommended by your healthcare provider.
Best taken on an empty stomach (at least 2 hours before or after a meal).
Ingredients:
Organic Cilantro (leaf),Organic Parsley(leaf),Agaricus Mushroom,Organic Alfalfa(herb),Organic Stinging Nettles(leaf), Organic Chaga Mushrooms, CU1, Supercharged C60 other ingredients: USP Kosher certified Vegitable glycerin, purified Water(PH neutral).