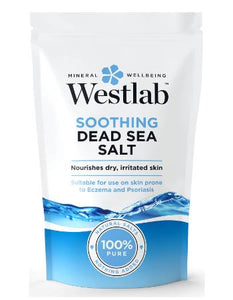 Softens and Soothes Dry, Itchy Skin
Supports Natural Skin Healing.
Suitable for use on skin prone to Eczema, Acne & Psoriasis.
Westlab only source the highest quality genuine Dead Sea Salt.
Naturally rich in Magnesium, Calcium and Potassium.
How to use:
Dissolve salts in a warm bath of 37-39°C. Relax and soak for 20 minutes. For general skin health and wellbeing add 1/2-1 cup (approx 100g-250g) to your bath. To help soften and soothe dry, itchy skin use 2-4 cups (500g-1Kg).