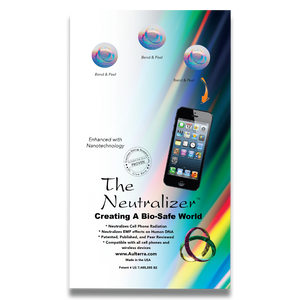 Benefits:
The Neutralizer is a small holographic disc that is the only product on the market today which has been scientifically proven to be significantly effective in reducing and or neutralizing the harmful effects of electromagnetic waves.
Description:
The neutralizer are made up of three micro thin layer of rare activated earth elements.

The neutralizer works on other EMF radiating device too!

Cellular phone are not the only harmful EMF radiating device in our homes or offices. If you have of this any electronic devices,you need the neutralizer.

Neutralizer is effective against harmful EMF/RF radiation with any style of cellular phone.

Any antenna style

Any brand or model

Digital, analog or dual mode phones.
How To Use :
Just stick it on and you are protected.there is no complicated installation procedure with neutralizer