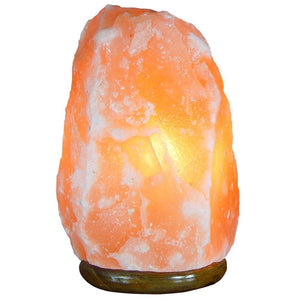 Benefits:
COPD, Asthma, and Allergies
Cystic Fibrosis
Skin Health
Anxiety and Insomnia
Seasonal Affective Disorder and Depression
Description:
Himalayan salt lamps can help to rejuvenate the energy in your home.

A salt lamp is ideal for a bedroom, on a desk about a small treatment room.
How It Works:
Himalayan Crystal Rock Salt Lamps are ideal for attracting Water Vapour and Moisture, along with any allergens and pollutants attached. Once these microscopic allergens and pollutants are attracted to the Himalayan Salt Lamp, they will remain there, thus not in the air where you were previously inhaling them.
All Himalayan Salt Lamps are heated, usually from a small appliance bulb inside the Lamp, so as the Water Vapour is settled into the Salt Lamp, this heat dries the Lamp, allowing the Hygroscopic properties to loop continuously as long as the Lamp is heated.
Any of the Allergens/Air Pollutants that have been attracted to the Salt Lamp, will remain there, and will not be re-released into the air again.
* Disclaimer - "This statement has not been evaluated by the FDA. This product is not intended to diagnose, treat, cure, or prevent any disease"..... If in doubt we always recommend you consult your wellness or health care practitioner before adding any diet changes or supplements to your daily wellness routine and practise.