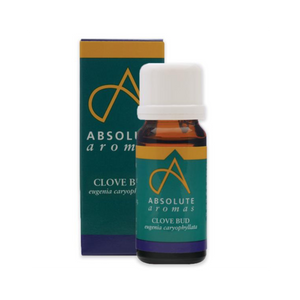 Benefits:
Invigorating and uplifting oil for the mind

Has a popular spicy aroma and naturally soothing & cleansing properties.

Helps fend off winter chills

Pure and natural

Vegan, GMO-free, and cruelty-free

Used in perfumes and for dental preparations.
Description: 
Clove Bud Essential Oil has a sweet, spicy, and fruity aroma, it is best known for its soothing benefits to the body, whilst also being uplifting and invigorating for the mind.
This Oil is steam distilled from the clove buds.
Clove Bud is a great versatile oil, used extensively in perfumes and dental care. It is naturally antibacterial and a great oil to use at home to help to eliminate stubborn, unpleasant odours.
How to use:
DIY TIP: For general aches and pains, try adding 1 drop of Clove Bud and 1 drop of Lavender to a bowl of hand-hot water, soak a flannel in the water and wring out. Place the flannel on the affected area and leave it until it loses its warmth.
ROOM FRAGRANCE – Clove Bud has a sweet, spicy, and fruity aroma. To help stave off winter chills, add 1 drop of Clove Bud, 2 drops of Lavender, and 2 drops of Bergamot to an oil burner or diffuser.
Ingredients: 
Eugenia Caryophyllus (Clove) Bud Oil.
* Disclaimer:
We always recommend you consult your wellness or healthcare practitioner before adding any diet changes or supplements to your daily wellness routine and practise.